SHARP: Study of Heart and Renal Protection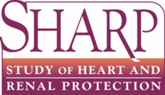 The Study of Heart and Renal Protection (SHARP) involved about 9,400 volunteers aged 40 or over with chronic kidney disease recruited from 380 hospitals in 18 countries. Patients included in the trial had lost at least 50% of their normal kidney function, with a third of them requiring dialysis treatment. None had had a previous heart attack or needed bypass surgery or "stents" to unblock their heart arteries. Volunteers in this double-blind placebo-controlled trial were randomly allocated to take either cholesterol-lowering therapy with a tablet containing ezetimibe 10mg daily and simvastatin 20mg daily, or matching dummy "placebo" tablets. Study treatment and follow-up continued for an average of 5 years.
The results, which were published in 2011, showed that patients who were allocated to take ezetimibe plus simvastatin had one-sixth fewer heart attacks, strokes or operations to unblock arteries ("major atherosclerotic events"), with similar reductions observed in all types of patient studied. For every 1000 kidney patients taking this cholesterol-lowering treatment for 5 years about 30-40 would avoid major atherosclerotic events, and the benefit would be even bigger in kidney patients who already have heart disease. More detail is available at the trial website.
Since completion of the main part of the trial we have continued to conduct research using the information obtained during the trial as well as from blood and urine samples that were in frozen storage. Our publications (opposite) include analyses of the health economic impact of treatment, of the effects of education on health outcomes in people with chronic kidney disease, the effects of treatment with ezetimibe/simvastatin on progression of kidney disease, and the influence of the primary kidney disease to the rates of kidney disease progression.
SHARP Post-Trial Follow-up
The main SHARP trial finished in 2010, but an additional project known as SHARP Post-Trial Follow-Up (SHARP PTFU) is currently underway. This involves' extended follow-up of SHARP participants in several countries. This project will assess whether, in the longer-term: (i) the beneficial effects in reducing the risk of heart attacks, strokes and operations to open blocked arteries seen in SHARP persist; (ii) any hazardous effects (such as cancer) emerge; and (iii) there is any longer-term protective effect on the kidneys.

Post-trial Follow-up results are expected in 2023/24.
In the UK, we will investigate this by obtaining routinely collected data from NHS Digital which will include hospital admission data, cancer and mortality data which we will compare with the clinical follow up data. Follow the link below for further information and how you can withdraw from this part of the research should you wish to.
Please see our Privacy Notice for information for SHARP UK participants regarding use of registry data.
Related research themes